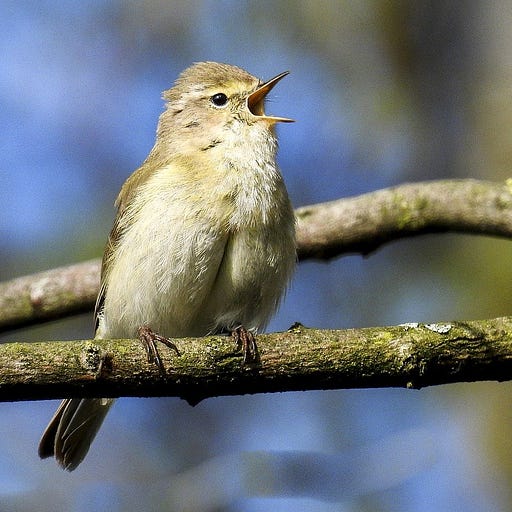 Mar 19, 2021 • 3M
Chiffchaff
Sweet metronome, spring herald
For many of us, that first moment in the year that we hear this song makes for a memorable day.
Those two notes aren't exactly a thriller on their own, but what they signify is exciting, because chiffchaffs are among the very first summer migrants to reach Britain.
This is one of those birds whose name is a direct description of the song - 'chiff-chaff, chiff-chaff' given somewhat tentatively. It's not far away from the great tit's 'teacher teacher', but the rhythm is more random and less mechanical.
From time to time chiffchaffs like to double or triple one of the notes, or reverse the order.
They also have a odd little churr, lower and quieter than the 'chiff-chaff' notes, which they often make in the gaps between, like they're keeping their engine turning over.
Chiffchaffs winter closer to Britain than most other warblers, meaning their migration is relatively short - up from North Africa or the Mediterranean. This enables them to arrive ahead of the pack.
Their status as the first summer songbird has been muddied in recent years, because a about a thousand chiffchaffs spend the winter with us. It's thought that most of these birds spend the summer further north, within Britain or in Scandinavia, and have found that they don't need to migrate all the way to southern Europe to survive.
These birds typically hang out at the glamorous spots, such as sewage works and around gravel pits, where there's a more reliable supply of small insects. They are also seen from time to time in gardens and the wider countryside.
And on a warm spring day some of these wintering birds may be tempted to sing, so it's not easy to be sure that you're listening to a genuine summer arrival if you hear one at the end of February.
However, most of those birds we hear in the second and third week of March are likely to be fresh arrivals, and they do arrive en masse - it may be that there are no chiffchaffs singing and then the following week there are two, three, four in quite a small area.
And of course they're most welcome at this time of year. It's not always feeling springlike, and yet the chiffchaff reassures us that change really is on the way.
---
Have you heard a chiffchaff yet where you are?
And if you'd like to join me and others for an early morning listen to the birds via Zoom, there are six spaces left for our next Up With The Birds session on Saturday 27 March. Tickets are free.

Media credits:
Thanks to the British Library and Lawrence Shove for the audio
Image by Kathy Büscher from Pixabay